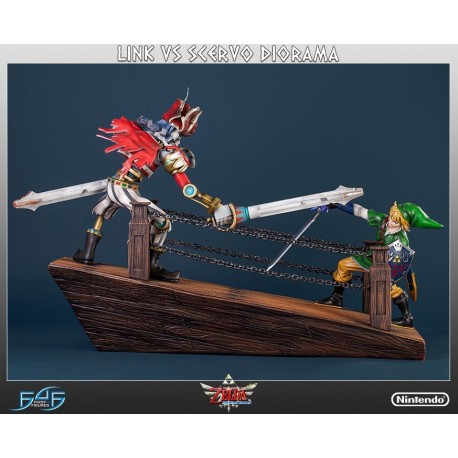 Agrandir l'image
Link vs Scervo Diorama
34242
Neuf
Attention : dernières pièces disponibles !
Date de disponibilité: 0000-00-00
En achetant ce produit vous pouvez gagner jusqu'à 34 points de fidélité. Votre panier totalisera 34 points pouvant être transformé(s) en un bon de réduction de 17,00 €.
En savoir plus
Link vs Scervo Diorama
Pendant The Legend of Zelda: Skyward Sword, Link se trouve sur les ponts d'un galleon de combat longtemps oublié connu sous le nom de Sandship. Tout en explorant le navire apparemment abandonné, Link rencontre et croise les épées avec Scervo: Le capitaine pirate mécanique qui garde le précieux trésor du Sandship.
Link et Scervo se tiennent sur le beaupré du Sandship, enfermés dans un duel intense à mort.
La base est coulée en polystone de haute qualité qui a été peinte à la main pour produire une finition exceptionnelle, et est le moyen idéal d'afficher nos figurines en PVC de haute qualité de Link et Scervo ensemble!
En plus de la base de résine très détaillée, cette version du diorama comprend des figurines en PVC de haute qualité de Link et Scervo pour compléter la scène!
Livré complet avec des emballages de luxe couleur, des intérieurs en mousse moulée, une base numérotée à la main et une carte d'authenticité.
​​​​​